How to Get the Best Supplies for Your Money
Written By: R.M. Strong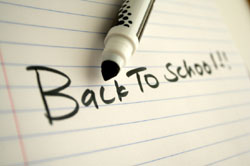 School supply lists can seem unending, and the price can add up very quickly. But do we really need to get everything on the list right away? When should we start looking for school supplies, such as filler paper, pencils, and binders? How can we send our students to school with what they need, without having to mortgage the house for the money?
With 17 years of experience as a student, and three years working at an office supply store during the Back to School season I learned a few things to help you get through this sea-son-without having to take out another mortgage on the house.
Tip #1: If it ain't broke, don't fix it. If something is still good from last year-such as a backpack or a calculator-there's no need to get a new one.
Tip #2: Start early. School supplies start going on sale as early as June. Backpacks-which aren't used a lot in the summer-are cheapest right after school ends to mid-July. Sally can find her special backpack; and Mom can find a good deal.
Tip #3: Buy in bulk and stock up. Billy will need many more than the 12 #2 pencils that the school supply list suggests. For just a few pennies more, go for the 48-pack. The rest of the pencils can be put away, and brought out when the original pencils are down to the nub, or they have been broken in pencil fights. If you come across an absolutely wonderful deal throughout the year, go for it and purchase as much as you can. You may spend more in the short run, but think of the things you won't have to buy next year! Some of the things that store well are: glue, spiral notebooks, pencils, and notebook paper.
Tip #4: Shop the sales. Check the office supply stores and websites for their weekly spe-cials. If you need to take more than one trip, that's okay-you'll save more than the gas money you spend.
But what supplies do we really need right away? That depends on the age of the student. Kindergarteners have different needs than high school seniors. Here is a list of the most common school supplies the students need on the first day of school.
Backpacks: Backpacks are an extremely important part of any student's wardrobe. Backpacks are the most crucial supply a student can have and are used in all 13 grades.
When looking for a backpack, splurge a little and get a name brand. This way, you won't have to buy a new backpack when the first one breaks. For example, Jansport backpacks can be a little more costly but come with a lifetime warranty that covers everything except normal wear and tear. Also available now are backpacks with wheels, so students don't have to carry back-packs at all. This may cut back on your student's back pain later on in life.
After the shootings at Columbine and other schools, some districts now require that all backpacks be see-through. Other school districts may restrict wheeled backpacks. Consult with your supply list to make sure you get the correct type of backpack.
Crayons, Markers, Highlighters and Colored Pencils: Depending on the age of the student, one or all of these may be needed. Many schools recommend only getting Crayola-brand crayons and markers. Markers for the younger children need to be washable and have a wider tip. Highlighters are needed when students begin grading each others' work-usually beginning in first or second grade. As your student gets older, crayons are substituted for colored pencils for use in Math, Social Studies, and other subjects.
Scissors: Scissors also change depending on the age of the student. Younger students need blunt scissors that cut only paper. Older children need sharper scissors. Some schools may ban scissors of a certain length. For these requirements, consult your school supply list.
Pencils, Pens, and Erasers: Writing is very important, and your student's writing uten-sils are just as important. Wooden pencils (No. 2), are recommended as they are the only things allowed on standardized tests. Many elementary schools do not recommend mechanical pencils, and wooden pencils are more economical anyway.
Pens usually aren't required until fifth grade, and even then, erasable pens are recom-mended-pens are not the best for math homework.
Pencils and some pens come with erasers, but when those wear down, you will need a pink eraser or a pencil top erasers. Some schools have a preference, some require both, so check your school supply list. Steer clear of gummy erasers and tan, crumbly erasers-they don't work for correcting and are not economical.
Pocket folders: Pocket folders are used throughout a school career. They now come in a myriad of colors and designs-from Captain Jack Sparrow to Cap'n Crunch. Many younger stu-dents need pocket folders rather than 3-ring binders. Of course, the more colorful, the more the cost-Captain Jack needs his royalties. But it's also a trade off. The higher the price the better the quality and the longer the folder will last. Some schools require both pocket-only folders and pocket folders with tabs (for 3-hole paper).
Glue and Glue Sticks: Bottled white glue, in addition to glue sticks, (Elmer's brand is recommended for both) is used throughout elementary school. In higher grades, only glue sticks are needed. There are now many types of white glue-including colored glue that dries clear. Most white glues are washable, and the colored glues do not stain clothing.
Pencil Box and Pencil Pouch: Pencil boxes and pouches keep desks and binders organ-ized. Pencil boxes (for younger grades) should be large enough to hold your student's pencils, pens, erasers, and a small box of crayons. They are sturdy and usually can last throughout the year with no problem.
Pencil pouches range from cheap plastic to hard plastic boxes. As with pocket folders, the more you spend, the longer it will last. Cheap plastic zip-close pencil pouches usually break within a few months of use. I have a hard plastic box that survived college and is still in use. I also still have a fabric pencil pouch I made in seventh grade sewing class that still works-it's just stained from exploding pens. For you creative types, patterns are available on-line.
Binders and Dividers: Three-ring binders and dividers usually do not come into play until fourth or fifth grade, depending on your district. By middle school, however, binders are required everywhere, as well as dividers.
Binders also come in all sizes (from 1/2 inch to 6 inches) and designs. The more a binder's rings are opened, the faster they will wear out. Many of the brightly designed binders (or charac-ter binders) are built for light use only, which is perfect for lower grades.
For older students, I recommend purchasing the plain binders and having your student decorate them as opposed to buying a cleverly-designed binder that will begin breaking within a month or two. Metallic pens work wonderfully on the plastic of the binders. Spend a little more and get the durable binders and you may have one that lasts the entire year.
Dividers come in packs of five or eight. Be sure you get enough to cover each subject or class. Make sure you get the reinforced edge dividers to ensure they last all year.
Filler Paper, Spiral Notebooks, and Composition Books: Most of the binder will be taken up with filler paper-three hole punched, lined, and 8 1/2 by 11 inches. The paper can come in wide- or college-ruled. Younger grades need wide ruled. By grade 5, usually the teachers do not care and you can purchase what your child is comfortable with.
Spiral notebooks also come in wide- and college-ruled. You can also find perforated notebooks so when your student rips his paper out of the spiral, there is (or at least can be) a clean edge. Most schools recommend just "one subject" spiral notebooks, approximately 70 sheets. You can find spiral notebooks to match your binders and pocket folders if coordination is your thing, or you can find wonderful deals on plain notebooks.
Composition books are used later in school-and are usually used for English class. Composition books are usually white and black, 6 by 9 inches, stitched, and hold extra-wide ruled paper. If your student is the decorating type-the covers take well to highlighter and can be personalized.
Rulers, Protractors, Compass, and Calculators: As your student gets past addition and subtraction, she will need rulers, protractors, compass, and a calculator. Rulers are needed as early as first grade in most schools. Rulers are now required to have both inches and centimeters. Protractors are used to measure angles, and are a half-circle. Be sure to get a clear plastic protractor so the angles in books can be read. Compasses are used to make circles and can be dangerous. They are usually metal and have a very sharp end. Having a safety talk with your stu-dent is a good idea.
Calculators come in many shapes, sizes and colors. Simple calculators are usually re-quired around fifth grade. As your student ages and gets into Algebra and above, he may need a graphing calculator. Graphing calculators can also be used to play games such as Tetris, so if your student is spending a lot of time doing math homework, you may want to check her work.
This is certainly not an exhaustive list. Some younger students need to bring cash or snacks to be shared with the group. If you students go to a private school, there may be other supplies they need in addition to the supplies needed by other students. Many classes are now asking for printer paper from each student. Be sure you check the school supply lists supplied at your local office supply or department store before sending your student off to school.
Tip #5: Remember, Mom and Dad, you're the one with the pocketbook. You should have the final say on what your student gets. Just because Billy says he needs a laptop, doesn't mean he does. This can also be a wonderful teaching opportunity. Give him a budget to stay within, have him pick out what he wants without going over budget. Students learn how to budget, de-cide what they really want to have, and make sacrifices on other things to get what they want!
Navigation
Can't Find What You Are Looking For?
K-12 Articles
Article Topics
Similar Articles