Keep Kids Learning All Summer
Written By: Mary M. Alward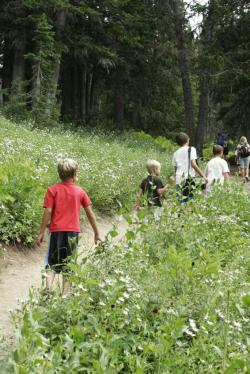 Early in the 20th century schools in urban districts operated all year `round. However, in rural areas where agriculture was the center of life, the school calendar was designed so the children were off school during spring planting and fall harvest. This allowed them to work on the family farm in the busiest seasons.
At that time, 85% of American families were involved, either directly or indirectly, in agriculture. Things have changed dramatically since those days. Children no longer work hard all summer. Instead, they spend their time playing video games, watching TV, or playing on the computer.
It is our responsibility as parents to keep our children learning all summer long. Here are a few suggestions on how to keep them busy while being continually educated.
Contact your local library and department of parks and recreation to find academic activities that will interest your child. Museums, science centers and zoos offer summer camp programs where children will have loads of fun while learning.
Contact the school board and inquire about enrichment activities that may be offered. If you child has low test scores in a certain subject, enroll him in summer school.
When planning your family's summer vacation, check out areas that will provide an educational experience. National parks provide geological and historical tours that are guided by rangers. Visit museums, Civil War battlefields or other educational facilities that will interest your family.
Enroll your child in a book club or a reading program that is sponsored by your local library. Reading non-fiction is a great way for children to learn about the world around them. Fiction allows their imagination to soar to heights beyond their wildest dreams.
Check the curriculum from the grade your child will be attending when he returns to school. Encourage him to read books that will prepare him for the next school year.
Borrow digital cameras from friends and relatives and go on nature walks. Let kids take photos of things that interest them. Print the photos off after they are uploaded to your computer and have kids create a nature journal. Let them describe the flora and fauna that they discovered on the hike. The nature journal can then be shown to their friends and family.
Take kids to the zoo. Ask them to choose a favorite animal and have them create a project on the animal which they choose.
Send your child to a summer camp that specializes in their favorite interest. There are art camps, sports camps, ranch camps and sailing camps, among others.
Have kids read a mystery book of their choosing and then create a board game that's based on the book. Encourage them to allow their imaginations to soar.
Encourage kids to create their own recipe. It could be a food, drink or ice cream creation. You'll be surprised with the delicious recipes that they come up with.
Help kids do simple experiments. For instance, how much salt must be added to water in order for an egg to float? What happens when pepper is sprinkled in a bowl of water and a drop of cooking oil is added? These basic experiments can be easily found online or at the public library and the ingredients are right in your kitchen.
Ask kids to create a weather journal. Can they predict tomorrow's weather? Hang a wind sock and help them learn about wind currents. Lie on the grass in the backyard and watch the clouds, then teach them the different types of clouds.
Rent DVDs based on books, such as the Harry Potter series, Narnia's The Lion, the Witch and the Wardrobe, Old Yeller, the Yearling, Girl of the Limberlost, Bridge to Terabithia and more. This is a great way to introduce kids to the Classics.
Take kids on a nature hike and have them collect bulrushes, leaves, sea shells, rocks, pinecones and other items of nature. Use the items to do a craft or have them organize them into categories.
Allow your kids to help with grocery shopping and household chores such as cooking and laundry. This helps them build life skills.
Give your kids a new writing topic each week. Be sure it is something they are interested in. The topics should be a mixture of both fiction and non-fiction. The week before they go back to school, have them make a cover and bind all of their stories into a book. Be sure they date it and put it in a safe place. Years from now it will bring back fond memories.
These are just a fraction of the educational activities that will allow your kids to continue learning during summer vacation. Use your imagination and make the activities fun and your kids will enjoy a memorable summer that keeps them learning on a daily basis.
Navigation
Can't Find What You Are Looking For?
K-12 Articles
Article Topics
Similar Articles