Calvary Christian Academy
Grades: PK-8
Student Enrollment: 35
Address

18900 E. Hampden Avenue

Aurora

,

CO

80013
Other Details
Principal or Admin: Shandelle Grosbach
Fax: (303) 628-7205
Website:

www.calvaryaurora.org
Find Old Friends From Calvary Christian Academy
Use the form below to search for alumni from Calvary Christian Academy.
School Description
Calvary Christian Academy is a private Christian school offering classes for students in Jr. Kindgarten (K4) through Eighth Grade.
Our purpose and desire is to train the whole student so that he or she will develop according to the example of our Lord Jesus Christ, being a godly influence in our world. Our goal is for each student to experience the full, regenerating power of Jesus Christ and the Word of God through the work of the Holy Spirit in his or her life. At the same time, we expect each student to work toward the highest development of each of his or her God-given gifts and talents.
Because we are the 'salt and light' that affects our community and our world, we have chosen two very important priorities for our school.
- Calvary Christian Academy will honor God by remaining loyal to Him despite the different winds of doctrine floating around today. We will be a CHRIST-HONORING school first.
- Calvary Christian Academy will honor God by maintaining high academic standards in order to equip the next generation for success in this world as Christian men and women.
Since the Christian approach to learning differs significantly from the secular viewpoint, Calvary Christian Academy offers a curriculum rooted in a God-centered view of life. This view holds that God's Word is the standard for all truth. The curriculum, taught by a prayerfully-selected and qualified Christian faculty, allows academic instruction consistent with Christ-centered living.
VISION
As a ministry of Calvary Chapel Aurora, the vision of our school is the same as our church. Our vision is evangelism with a responsibility to:
Win a person to Jesus Christ - Mark 16:15 And He said to them, \"Go into all the world and preach the gospel to every creature."
Disciple a person in Jesus Christ - Matthew 28:19 \"Go therefore and make disciples of all the nations, baptizing them in the name of the Father and of the Son and of the Holy Spirit.\"
Send a person for Jesus Christ - Acts 1:8 \"But you shall receive power when the Holy Spirit has come upon you; and you shall be witnesses to Me in Jerusalem, and in all Judea and Samaria, and to the end of the earth.\"
For more information about Calvary Christian Academy, check out the various pages of this website, send an email to

[email protected] or call 303.628.7200. We love what God is doing in and through us, and would love to share that with you.
School Ratings and Reviews
Be The First To Review Calvary Christian Academy!
Help others in the community find the best school for their children by rating this school and writing a detailed review of your experiences.
Faculty Details and Student Enrollment
Students and Faculty
Total Students Enrolled: 35
Total Full Time "Equivalent" Teachers: 2.0
Average Student-To-Teacher Ratio: 17.5
Student Enrollment Distribution by Race / Ethnicity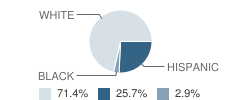 | | Number | Percent |
| --- | --- | --- |
| American Indian | - | - |
| Black | 1 | 2.9% |
| Asian | - | - |
| Hispanic | 9 | 25.7% |
| White | 25 | 71.4% |
Number of Students Per Grade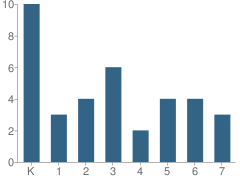 | | Number | Percent |
| --- | --- | --- |
| Kindergarten | 10 | 28.6% |
| 1st Grade | 3 | 8.6% |
| 2nd Grade | 4 | 11.4% |
| 3rd Grade | 6 | 17.1% |
| 4th Grade | 2 | 5.7% |
| 5th Grade | 4 | 11.4% |
| 6th Grade | 4 | 11.4% |
| 7th Grade | 3 | 8.6% |
Source: CO Department of Education, Source: NCES 2009-2010
Navigation
Can't Find What You Are Looking For?
Get School Listings On Your Site
The Widget Offers:
- Searching By City or Zip
- Public & Private Schools
- School Ratings & Grades
- Simple Embedding Code
Great For:
- Real Estate Blogs
- Education or School Blogs
- School Websites