Kids R Kids of Clayton Nc
Grades: Unknown
Student Enrollment: 215

5 out of 5 | 2 Reviews
Address

307 Tew Ct

Clayton

,

NC

27520
Other Details
Principal or Admin: Charity Bouren
Website:

www.kidsrkidsclayton.com
School Description
We are a preschool of academic excellence, not just a daycare. We utilize a standards driven, year-round curriculum that is designed and updated quarterly by professional child care educators exclusively for Kids R Kids. Academic objectives are cross-referenced to reflect National and North Carolina standards. Kids R Kids is not just another daycare; we`re the premier early learning center serving Clayton, Garner, Raleigh, Smithfield, Wendell, Knightdale, Cleveland, Archer Lodge, and surrounding areas in and around Johnston County and Eastern Wake County. We offer programs for infants, toddlers, preschool, before/after school and summer camps. Our objective is to provide your child with an outstanding education in a loving environment and prepare them for Kindergarten and beyond!
Faculty Details and Student Enrollment
Students and Faculty
Total Students Enrolled: 215
Total Full Time "Equivalent" Teachers: 40.0
Average Student-To-Teacher Ratio: 5.4
Source: NC Department of Education, Source: NCES 2009-2010
School Community Forum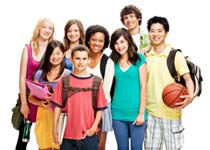 Join a discussion about Kids R Kids of Clayton Nc and talk to others in the community including students, parents, teachers, and administrators.
Popular Discussion Topics
Admissions and Registration Questions (e.g. Dress Code and Discipline Policy)
School Calendar and Upcoming Events (e.g. Graduation)
After School Programs, Extracurricular Activities, and Athletics (e.g. Football)
News and Announcements (e.g. Yearbook and Class Supply List Details)
Graduate and Alumni Events (e.g. Organizing Class Reunions)
blog comments powered by

Disqus
Navigation
Can't Find What You Are Looking For?
Get School Listings On Your Site
The Widget Offers:
- Searching By City or Zip
- Public & Private Schools
- School Ratings & Grades
- Simple Embedding Code
Great For:
- Real Estate Blogs
- Education or School Blogs
- School Websites