Conservatory Prep Senior High School
Grades: 8-12
Student Enrollment: 17
Address

5850 S. Pine Island Road

Davie

,

FL

33328
Other Details
Principal or Admin: Dr. Wendy H. Weiner, Ed.d.
Fax: (954) 321-1817
Website:

www.conservatoryprep.org
Find Old Friends From Conservatory Prep Senior High School
Use the form below to search for alumni from Conservatory Prep Senior High School.
School Description
Conservatory Prep Senior High School ("CPSHS") is a SACS accredited school for the premier visual and performing arts for grades 8-12 in Davie, South Florida. CPSHS seeks to attract applicants who desire a full college preparatory program with an integration of the arts in a small intimate environment. Our students tend to be independent creative thinkers and are in need of an outlet to expand their talents. An important factor in the decision to admit a student is the desire to be part of our learning community. Admission is limited to those students for whom Conservatory Prep will most benefit and who will contribute to the school community.
Conservatory Prep classes are taught on high school, honors and Advanced Topics levels. Advanced Topics courses are taught on a college-level, similar to Advanced Placement. Unlike the AP courses, which are taught for the test, Advanced Topics simulates an actual college experience incorporating small seminar classes with discussion, independent research and investigation into primary sources.
Conservatory Prep's rigorous academic program exceeds the Florida state standards, enabling our students to be very competitive for top colleges. Our math and Latin courses are both designed to incorporate the skills needed for students to be successful on the SAT and ACT exams. Students come to us from all backgrounds, strengths and weaknesses. We strive to promote citizenship by teaching our students to learn from and respect each other's differences and celebrate each other's accomplishments.
School Ratings and Reviews
Be The First To Review Conservatory Prep Senior High School!
Help others in the community find the best school for their children by rating this school and writing a detailed review of your experiences.
Faculty Details and Student Enrollment
Students and Faculty
Total Students Enrolled: 17
Total Full Time "Equivalent" Teachers: 0
Number of Students Per Grade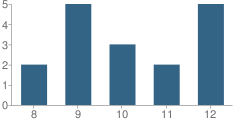 | | Number | Percent |
| --- | --- | --- |
| 8th Grade | 2 | 11.8% |
| 9th Grade | 5 | 29.4% |
| 10th Grade | 3 | 17.6% |
| 11th Grade | 2 | 11.8% |
| 12th Grade | 5 | 29.4% |
Source: FL Department of Education, Source: NCES 2009-2010
Navigation
Can't Find What You Are Looking For?
Get School Listings On Your Site
The Widget Offers:
- Searching By City or Zip
- Public & Private Schools
- School Ratings & Grades
- Simple Embedding Code
Great For:
- Real Estate Blogs
- Education or School Blogs
- School Websites