Ramona Convent Secondary School
Grades: 7-12
Student Enrollment: 463
Address

1701 W Ramona Rd

Alhambra

,

CA

91803
Other Details
Principal or Admin: Kathleen Pillon
Fax: (626) 281-0797
Website:

ramona.pvt.k12.ca.us
Find Old Friends From Ramona Convent Secondary School
Use the form below to search for alumni from Ramona Convent Secondary School.
School Description
Founded in 1889 by the California province of the Sisters of the Holy
Names of Jesus and Mary, Ramona Convent Secondary School is one of the
oldest operating schools in California. As a Catholic school, Ramona
provides a Christian environment in which young women develop academic
excellence, spiritual depth, personal integrity, and leadership skills
that will prepare them to meet the challenges of the twenty-first
century. We welcome a diverse student body, both ethnically and
economically, so that students can learn from each other and grow to
appreciate different cultures and traditions. We have created a
comprehensive curriculum that results in a well-rounded student who has
learned to think critically and ethically. We offer our students the
vital tools of education, self-assurance, leadership skills, and
community involvement so that, regardless of their economic background,
they will be able to succeed in their chosen career path and in the
world. Ramona is justifiably proud of our graduates as they pursue their
futures and make their contributions to the public and private sectors.
Among their numbers are teachers and social workers, as well as doctors,
nurses, lawyers, therapists, and heads of non-profit organizations.


Each year at graduation, the long lists of scholarships, grants, awards,
and honors-at-entrance testify to the continued academic excellence of
Ramona graduates. In keeping with her tradition that now spans three
centuries, as well as the charism of the Sisters of the Holy Names,
Ramona continues to prepare young women for the responsibilities and
leadership required in today's competitive and complex world.
School Ratings and Reviews
Be The First To Review Ramona Convent Secondary School!
Help others in the community find the best school for their children by rating this school and writing a detailed review of your experiences.
Faculty Details and Student Enrollment
Students and Faculty
Total Students Enrolled: 463
Total Full Time "Equivalent" Teachers: 47.5

Full-Time Teachers: 45

Part-Time Teachers: 4

Average Student-To-Teacher Ratio: 9.8
Percent Minority Students: 66.1%
Students Gender Breakdown
Males: - (-)
Females: 463 (100.0%)
Student Enrollment Distribution by Race / Ethnicity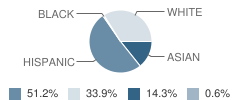 | | Number | Percent |
| --- | --- | --- |
| American Indian | - | - |
| Black | 3 | 0.6% |
| Asian | 66 | 14.3% |
| Hispanic | 237 | 51.2% |
| White | 157 | 33.9% |
Number of Students Per Grade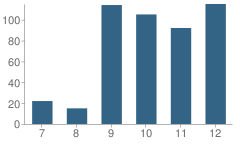 | | Number | Percent |
| --- | --- | --- |
| 7th Grade | 22 | 4.8% |
| 8th Grade | 15 | 3.2% |
| 9th Grade | 114 | 24.6% |
| 10th Grade | 105 | 22.7% |
| 11th Grade | 92 | 19.9% |
| 12th Grade | 115 | 24.8% |
Source: CA Department of Education, Source: NCES 2009-2010
School Community Forum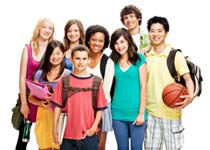 Join a discussion about Ramona Convent Secondary School and talk to others in the community including students, parents, teachers, and administrators.
Popular Discussion Topics
Admissions and Registration Questions (e.g. Dress Code and Discipline Policy)
School Calendar and Upcoming Events (e.g. Graduation)
After School Programs, Extracurricular Activities, and Athletics (e.g. Football)
News and Announcements (e.g. Yearbook and Class Supply List Details)
Graduate and Alumni Events (e.g. Organizing Class Reunions)
blog comments powered by

Disqus
Navigation
Can't Find What You Are Looking For?
Get School Listings On Your Site
The Widget Offers:
- Searching By City or Zip
- Public & Private Schools
- School Ratings & Grades
- Simple Embedding Code
Great For:
- Real Estate Blogs
- Education or School Blogs
- School Websites