Greengate School for Dyslexia
Grades: KG-8
Student Enrollment: 35
Address

1300 Meridian St N

Huntsville

,

AL

35801
Other Details
Fax: (256) 551-0726
Website:

www.greengateschool.org
Find Old Friends From Greengate School for Dyslexia
Use the form below to search for alumni from Greengate School for Dyslexia.
School Description
Greengate School is a Private, Non-profit School Located in Huntsville AL.
Since 2002 Greengate has educated and supported bright children with learning differences in reading, spelling or writing. As we have grown, Greengate's role has expanded, becoming a dyslexia resource for the community, training teachers, parents and growing community awareness of the issues surrounding those with these learning differences.
Mission:
Our mission is to educate and support bright children who have specific learning differences in reading, spelling or writing so that they may realize their full potential.
Goal:
To assist students in managing their learning differences so they may cultivate their strengths. We are dedicated to creating a challenging curriculum in a responsive learning environment where students can build the social competence and academic skills required for future success.
School Ratings and Reviews
Be The First To Review Greengate School for Dyslexia!
Help others in the community find the best school for their children by rating this school and writing a detailed review of your experiences.
Faculty Details and Student Enrollment
Students and Faculty
Total Students Enrolled: 35
Total Full Time "Equivalent" Teachers: 8.0
Average Student-To-Teacher Ratio: 4.4
Number of Students Per Grade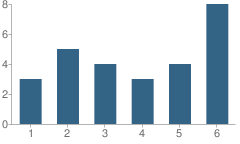 | | Number | Percent |
| --- | --- | --- |
| 1st Grade | 3 | 8.6% |
| 2nd Grade | 5 | 14.3% |
| 3rd Grade | 4 | 11.4% |
| 4th Grade | 3 | 8.6% |
| 5th Grade | 4 | 11.4% |
| 6th Grade | 8 | 22.9% |
Source: AL Department of Education, Source: NCES 2009-2010
Navigation
Can't Find What You Are Looking For?
Get School Listings On Your Site
The Widget Offers:
- Searching By City or Zip
- Public & Private Schools
- School Ratings & Grades
- Simple Embedding Code
Great For:
- Real Estate Blogs
- Education or School Blogs
- School Websites