Pathways to Technology Magnet School

No Reviews Yet
Find Old Friends From Pathways to Technology Magnet School
Use the form below to search for alumni from Pathways to Technology Magnet School.
School Description
You want the best education opportunity available, that's why! As a technology magnet school, Pathways to Technology students are given the opportunity to acquire the technological knowledge and skills necessary to compete in today's global economy.
Pathways to Technology staff members provide students with appropriate integration of technology with standards based curricula and instructional managements that enhance student learning and prepare graduates for college and careers in technology.
The school uses technology as an instructional and administrative tool to facilitate education by creating an adaptable learning process and environment, which incorporates technologies to assist students in enhancing their access to learning opportunities while strengthening their understanding and retention of new information about both the process and the content of education.
It is the vision of the Pathways to Technology Magnet High School that all of its graduates develop the skills needed to become fully active participants in our global, technology-driven society.
Faculty Details and Student Enrollment
Students and Faculty
Total Students Enrolled: 351
Total Full Time "Equivalent" Teachers: 28.6
Average Student-To-Teacher Ratio: 12.3
Students Gender Breakdown
Males: 203 (57.8%)
Females: 148 (42.2%)
Free Lunch Student Eligibility Breakdown
Eligible for Reduced Lunch: 43 (12.3%)
Eligible for Free Lunch: 164 (46.7%)
Eligible for Either Reduced or Free Lunch: 207 (59.0%)
Student Enrollment Distribution by Race / Ethnicity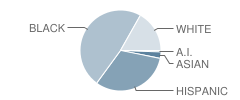 | | Number | Percent |
| --- | --- | --- |
| American Indian | 2 | 0.6% |
| Black | 169 | 48.1% |
| Asian | 9 | 2.6% |
| Hispanic | 112 | 31.9% |
| White | 59 | 16.8% |
Number of Students Per Grade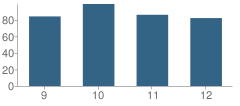 | | Number | Percent |
| --- | --- | --- |
| 9th Grade | 84 | 23.9% |
| 10th Grade | 99 | 28.2% |
| 11th Grade | 86 | 24.5% |
| 12th Grade | 82 | 23.4% |
Source: CT Department of Education, Source: NCES 2009-2010
School Ratings and Reviews
Be The First To Review Pathways to Technology Magnet School!
School Map and Similar Schools Nearby
Click to Activate Map of Nearby School Campuses
Private
Public
This School
Similar Schools Nearby
Compare This School To Nearby Schools ->
School Community Forum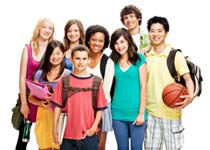 Join a discussion about Pathways to Technology Magnet School and talk to others in the community including students, parents, teachers, and administrators.
Popular Discussion Topics
Admissions and Registration Questions (e.g. Dress Code and Discipline Policy)
School Calendar and Upcoming Events (e.g. Graduation)
After School Programs, Extracurricular Activities, and Athletics (e.g. Football)
News and Announcements (e.g. Yearbook and Class Supply List Details)
Graduate and Alumni Events (e.g. Organizing Class Reunions)
blog comments powered by

Disqus
Navigation
Can't Find What You Are Looking For?