West Street Pre-Kindergarten Center School

No Reviews Yet
School Description
School Summary and Highlights
Enrolls 126 preschool students that are all enrolled in the same grade level (PK)
Additional Contact Information
Principal or Admin: Peter Krisniski
School Operational Details
Magnet School
School District Details
Per-Pupil Spending: $17,447
Graduation Rate: 63.9%
Dropout Rate: 7.6%
Students Per Teacher: 13.0
Enrolled Students: 12,094
Faculty Details and Student Enrollment
Students and Faculty
Total Students Enrolled: 126
Total Full Time "Equivalent" Teachers: 6.0
Average Student-To-Teacher Ratio: 20.9
Students Gender Breakdown
Males: 62 (49.2%)
Females: 64 (50.8%)
Free Lunch Student Eligibility Breakdown
Eligible for Reduced Lunch: 24 (19.0%)
Eligible for Free Lunch: 57 (45.2%)
Eligible for Either Reduced or Free Lunch: 81 (64.3%)
Student Enrollment Distribution by Race / Ethnicity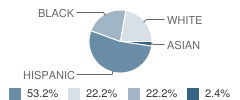 | | Number | Percent |
| --- | --- | --- |
| American Indian | - | - |
| Black | 28 | 22.2% |
| Asian | 3 | 2.4% |
| Hispanic | 67 | 53.2% |
| White | 28 | 22.2% |
Number of Students Per Grade

| | Number | Percent |
| --- | --- | --- |
| Pre-Kindergarten | 126 | 100.0% |
Public Assistance (2010)
Estimated Percent of Students From Households That Receive Public Assistance: 21-30%
Teacher Turnover Rates (2010)
Turnover Rate For All Teachers
School:
20.0%
District:
17.0%
Teacher Experience & Educational Background (2010)
Percent of Teachers with Master's or Ph.D.
School:
33.0%
District:
40.0%
Source: NY Department of Education, Source: NCES 2009-2010
School Ratings and Reviews
Be The First To Review West Street Pre-Kindergarten Center School!
School Map and Similar Schools Nearby
Click to Activate Map of Nearby School Campuses
Private
Public
This School
Similar Schools Nearby
Compare This School To Nearby Schools ->
School Community Forum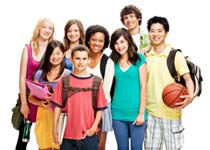 Join a discussion about West Street Pre-Kindergarten Center School and talk to others in the community including students, parents, teachers, and administrators.
Popular Discussion Topics
Admissions and Registration Questions (e.g. Dress Code and Discipline Policy)
School Calendar and Upcoming Events (e.g. Graduation)
After School Programs, Extracurricular Activities, and Athletics (e.g. Football)
News and Announcements (e.g. Yearbook and Class Supply List Details)
Graduate and Alumni Events (e.g. Organizing Class Reunions)
blog comments powered by

Disqus
Navigation
Can't Find What You Are Looking For?