Moppets Nursery School & Kindergarten
Grades: PK-KG
Student Enrollment: 48

5 out of 5 | 5 Reviews
Address

62 Elm St

Milford

,

NH

03055
Other Details
Principal or Admin: Donna Esposito
Website:

www.moppetsnh.org
Find Old Friends From Moppets Nursery School & Kindergarten
Use the form below to search for alumni from Moppets Nursery School & Kindergarten.
School Description
Moppets Nursery School and Kindergarten was established on April 28, 1976. Moppets is a non-profit school which governs itself through four elected officers and one class parent representing each class. The Board of Directors is made up of parents whose children attend or have attended Moppets.
Our goal is to offer each child experiences that will enhance his/her development in all areas: physical, social and emotional, as well as intellectual. We accept and respect each child and give each child the freedom to grow at his/her own pace.
Our curriculum is academic based and will help to prepare your child for school in the years to come. We carefully select material for play, and plan activities that encourage the child to discover facts, concepts, and relationships on their own. In this way, the children come to understand by doing, and they acquire an appreciation for their own unique talents.
Our program is intended to foster habits and attitudes that help children feel good about themselves and secure in their environment. From contact with other children in small-supervised groups, children learn to share, cooperate, defend their rights, and develop initiative and self-confidence. From exposure to art, music, science, and literature, the children learn to express themselves and discover more about the physical world.
Enrollment and Registration: Children who are 3, 4 or 5 by September 30th of the current school year may enroll in our programs. Program days and times are outlined on the back of this brochure.
You may register at any time, providing there is space available. Once registered, you will receive additional information during the summer. Please call the school, Monday through Friday 8 a.m. to 6:00 p.m. for more information. You may also schedule a visit with the teachers and take a tour of the school.
Our school is non-profit and does not discriminate on the basis of race, color or creed.
Faculty Details and Student Enrollment
Students and Faculty
Total Students Enrolled: 48
Total Full Time "Equivalent" Teachers: 1.0

Full-Time Teachers: 1

Average Student-To-Teacher Ratio: 17.0
Students Gender Breakdown
Males: 16 (33.3%)
Females: 32 (66.7%)
Student Enrollment Distribution by Race / Ethnicity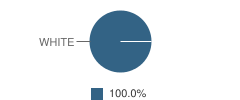 | | Number | Percent |
| --- | --- | --- |
| American Indian | - | - |
| Black | - | - |
| Asian | - | - |
| Hispanic | - | - |
| White | 17 | 35.4% |
Number of Students Per Grade

| | Number | Percent |
| --- | --- | --- |
| Pre-Kindergarten | 31 | 64.6% |
| Kindergarten | 17 | 35.4% |
Source: NH Department of Education, Source: NCES 2009-2010
Navigation
Can't Find What You Are Looking For?
Get School Listings On Your Site
The Widget Offers:
- Searching By City or Zip
- Public & Private Schools
- School Ratings & Grades
- Simple Embedding Code
Great For:
- Real Estate Blogs
- Education or School Blogs
- School Websites